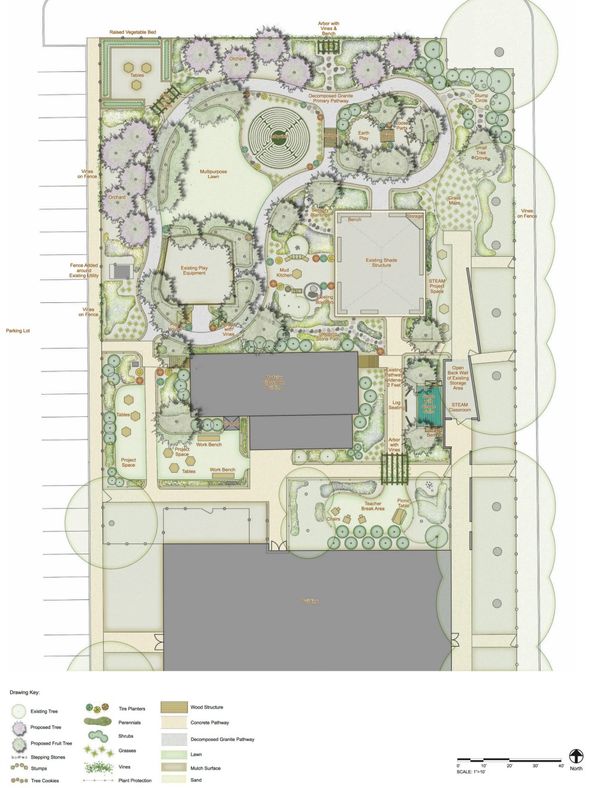 OLE! Harris County is a collaborative initiative, with Healthy Living Matters in the lead, to improve the health and wellness for children ages 0-5. Our pilot project is at the Headstart Center- Pasadena, TX. In June of 2017 the designers, Robin Moore and Nilda Cosco held a planning meeting to engage the Headstart staff, administration, community members and the local coalition to to design the outdoor spaces of the center. Once the funding is in place, work will begin to transform the play areas into outdoor learning environments where children will experience an increase in active play and their connection with nature.
Additional, sites around Harris County are considering improving their centers with outdoor learning environments.
One of the additional initiatives of OLE! Texas is to train landscape designers on the Natural Learning Initiative's best practices and national guidelines for nature play spaces. Our goal is to share the names of these trained designers to be a resource to the community.
For more information about our OLE! work in Harris County email Lucia Martinez: Lucia.Martinez@phs.hctx.net
List of Designers:
Abigail Phillips, Asakura Robinson, 1902 Washington Ave, Suite Houston, TX 77007 (713)-337-5830 x 105 abigail@asakurarobinson.com
Meade Mitchell, TBG Partners, 3050 Post Oak Blvd., Ste. 1100 Houston TX 77079 (713)-439-0027 meade.mitchell@tbgpartners.com
Saima Musharrat, Asakura Robinson, 1902 Washington Ave, Suite A Houston TX 77007 (713)-337-5830 x 106 saima@asakurarobinson.com
Leslie Wren, Asakura Robinson 1902 Washington Ave, Suite A Houston TX 77007 (713)-337-5830 x 104 leslie@asakurarobinson.com
Lindsey Ray, TBG Partners, 3050 Post Oak Blvd., Ste. 1100 Houston TX 77079 (713)-439-0027 lindsey.ray@tbgpartners.com
Mike Maki, City of Pasadena, 3111 San Augustine Pasadena TX 77503 (713)-475-7048 mmaki@ci.pasadena.tx.us
Paul Cranford, City of Baytown, 2401 Market St, Rm. 120 Baytown TX 77520 (281)-420-6593 Paul.Cranford@baytown.org
Falon Mihalic Falon Land Studios, 1907 Sabine St #108, Houston, TX 77007 (786) 763-2375
Carmen Posey, Environments & Company, 1846 Snake River Rd., Ste B Katy, TX 77493 (832) 309-1513 cposey@environmentsco.com