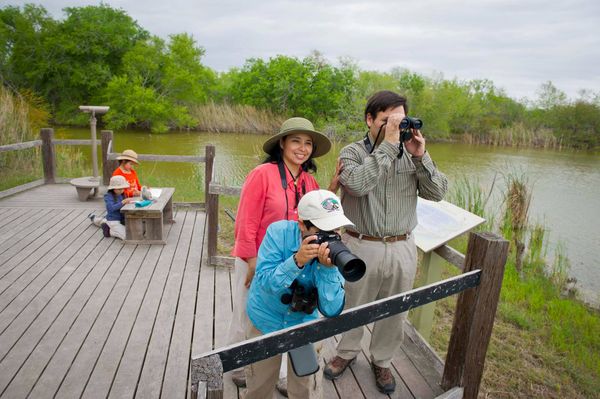 In the spring of 2022, the Rio Grande Valley was identified as an area where strengthening the collaborative between health and nature organizations would help bring about strategies, policies and programs that would improve youth's access to nature and the outdoors while increasing physical activity.
Marisa Oliva serves as the RGV Health and Nature Liaison, and has been meeting with agencies and organizations across several to decide on a regional strategy, as well as provide opportunities for networking and collaboration.
Over the past year, the Texas Children in Nature Network has worked with partners in the following capacities.
In partnership with our sponsors Driscoll Health Plan, the Library Explorer Adventure Pack (LEAP) program will launch Spring Break 2023. Developed with library, state and city partners, eight libraries across Cameron and Hidalgo County will house 43 nature backpacks that can be checked out for a two-week rental period. There are 10 different themes available, which each library housing 4 to 6 backpacks. Each backpack includes books, guides, tools, journals, and other equipment related to the theme. In addition, Texas Parks and Wildlife Department is providing LEAP borrowers with free admission for up to two adults (13 and up), plus any children 12 and under at any State Park in Cameron and Hidalgo County, during the rental period.
Texas Children in Nature Network provided technical assistance for developing a Community Camping program grant for Brownsville Parks and Rec Department. This grant, recently awarded through the Texas Parks and Wildlife CO-OP Grant program, will provide staff, equipment, and training to support community camping programs in schools, parks, and nature sites in and around Brownsville. In addition, Brownsville Parks and Recreation Department will work in collaboration with partners across Cameron County to provide programs and activities within the camping experiences, such as yoga, outdoor cooking, archery, kayaking and more. The program will utilize Brownsville's outdoor gear lending library called "Borrow my Gear." The program will launch in the Fall of 2023 and will run through the Spring of 2024. It will serve youth, families, and special needs individuals.
In the Spring of 2023, in collaboration with the University of Texas, Texas Children in Nature Network RGV is coordinating a Youth Photovoice Study in the City of Pharr. During February and March, community leaders throughout Pharr met to discuss issues youth face in spending time outdoors. Later in April, Youth will meet to delve into these issues with their own perspective, using the camera lens to tell their story. In the summer of 2023, the results of the study will be shared with City leadership and their community.
Texas Children in Nature Network partners have met multiple times during 2022 and into 2023 to discuss potential regional strategies for the Rio Grande Valley. At our last meeting, it had been decided that the partners will focus on developing a "Children's Outdoor Bill of Rights" for their respective cities, focusing on the resources and needs of our area.
For more information about the Texas Children in Nature Network-RGV collaborative, it's projects, or how to get involved, please contact Marisa Oliva at moliva@texaschildreninnature.org.