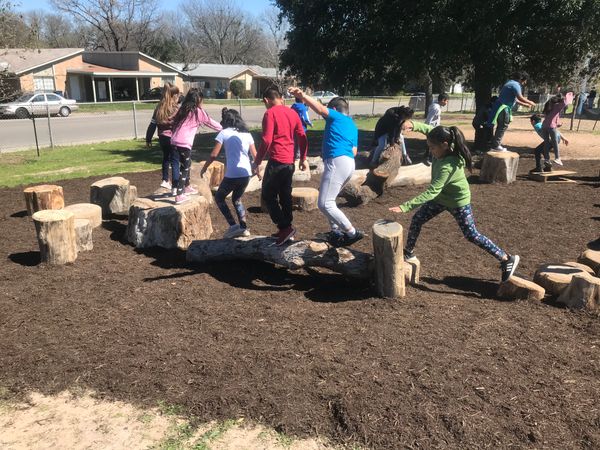 The National League of Cities and Children & Nature Network introduced the Cities Connecting Children to Nature project in 2016 to increase equitable access to nature within cities. Seven cities were selected to be in the pilot cohort, including Austin.
The City of Austin Parks and Recreation Department worked closely with the Children in Nature Collaborative of Austin, TCiN and C&NN to draft and now execute an implementation plan. The plan calls upon various city departments, non-profit partners, and the local school district to consider how they can do a better job of equitably connecting children and families with nature through reviewing and revising their policies and practices.
Part of the process was an extensive mapping of the city, looking at "green" factors such as location and availability of parks and tree canopy coverage correlated with social factors such as household income, children population and crime. The CCCN Leadership Team chose to "green" two school campuses in an area of Austin that was found to have a nature deficit. By working with the community to design and install a combination of green infrastructure (trees, gardens, cisterns, nature play, etc.) and general park amenities (benches, picnic tables, waste receptacles, etc.), these campus have become a living laboratory in which students can study all disciplines, as well as a community hub during out-of-school time. Professional Development is also being provided to the staff to assist them in using the new features during lessons and partners are working with the community to activate the park on weekends. The Barrington Elementary Green School Park was completed in March 2018 and Wooldridge Elementary Green School Park was completed March 2020.
The City of Austin has some good resources on their website if your city or town is interested in taking on such a project. Have a look at their time line, implementation plan and read the Children's Outdoor Bill of Rights.