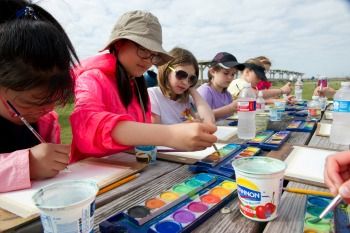 Are More Creative
Have you ever asked children to tell you what they see, think, smell or feel in a natural setting? Are you amazed at how creative their answers can be? Nature has long been the source of inspiration for ideas, works of art, inventions, literature and music. When kids come up with their own games they are fostering their imaginations.
Creativity is a strong component of critical thinking and important in a child's development. More importantly, when kids are allowed to explore and use their imagination, it's really fun for them and the accompanying adults.
City Parks Offer a Sense of Place
This brief article draws on solid research, some of which is independently referenced elsewhere in this list. Among the points made are that city parks offer a sense of place, opportunity for daily experience with nature, experiences that enhance school achievement, and antidotes to alienation. This American Planning Association City Parks Forum Briefing Paper is largely inspired by the work of Robin Moore, noted and pioneering landscape designer with a commitment to creating learning landscapes that optimize children's learning. "Natural spaces and materials stimulate children's limitless imaginations and serve as the medium of inventiveness and creativity," says Moore. Readers will find tangible reasons for the benefits associated with using city parks as places for learning as well as community-based examples and resources. (Synthesis)
"How Cities Use Parks to . . . Help Children Learn," Chicago, IL: American Planning Association, 2003 is available on line at www.naturalearning.org and www.planning.org.