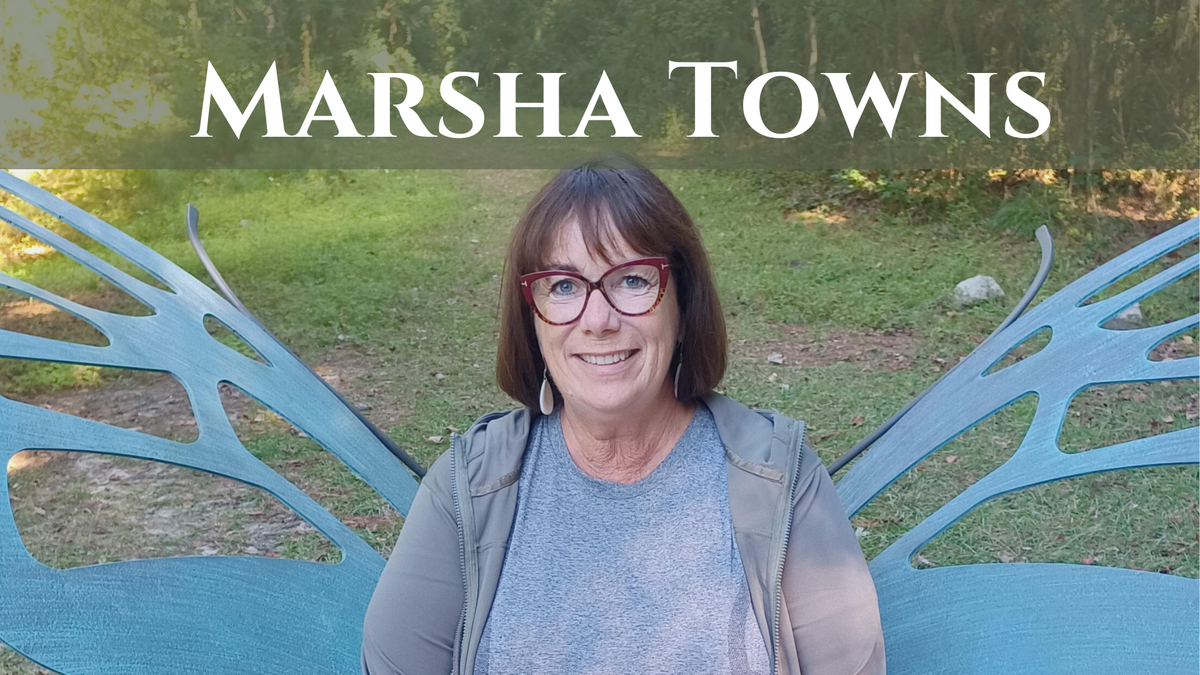 Marsha Towns
At-Large
Marsha met with Alice on March 2nd to share why she joined the Texas Children in Nature Network Board.
Marsha, please introduce yourself and let us know a little about you:
My name is Marsha Towns. I am the Director for the Gulf Region for the Student Conservation Association (SCA). I'm also a citizen of the city of Houston and I have been living here for the last 10 years. I have been with SCA for 32 years and I worked primarily out of the Northeast and in Washington D.C. before I came to Houston. My focus is on Partnerships both current, new, and retaining partnerships and because we also have a local community program in Houston and program staff, I have a little closer touch to program operations than a lot of partnership staffers in the organization.
SCA is a 501(c)(3) non-profit national non-profit and our headquarters is in the Washington D.C. beltway area in Arlington, Virginia. We have been doing the business of connecting young people to the outdoors and developing the next generation of conservation leaders since 1957. Originally our partners were federal agencies only and the National Park Service was our first partner. We still, of course, work very closely with them, however over the years we have expanded to pretty much all the major federal and state agencies, lots of other non-governmental organizations, and cities. Over the last several years our growth in urban conservation and working with urban youth has grown exponentially. It is where some of the greatest expansion of our programming has taken place, and we place SCA members in all 50 states as well as several territories where we work.
One thing I am doing with the organization is leading an Employee Resource Group within our organization regarding women in conservation. This initiative will be supporting staff with five affinity groups and it is a new opportunity for our staff to engage in professional development within the organization. I was very happy to be asked to lead the group and I think it's really quite an honor, actually, as there are so many women within our organization with so much to offer from their own experience of being a woman in conservation.
What are some of your favorite activities in nature?
I love walking and hiking. I walk every single day between three and seven miles. I am also very interested in horticulture and gardening and how that connects more broadly to individual sustainability. My goal in my own life is living a sustainable and connected life, and for me that manifests itself in things like growing a lot of my own food and canning that food. Also, energy conservation, we have a fairly energy conserving home and I love sharing that with other people. I like to paint in nature and I'm always out taking photographs that I can use for landscape painting.
What is your favorite nature spot in Texas?
The Sims Bayou, which is part of the Bayou Greenways in Houston is one of my favorite nature spots in Texas. The Houston Parks Board supports the Houston Parks and Recreation Department and for several of the parks they raised all the money and developed this walking and biking trail that runs through Houston. It's an amazing thing and one of the connectors goes right into my neighborhood so every day I get to walk along the bayou and observe beautiful waterfowl. It is amazing that there's so many wildlife species and interesting places. Houston is very urban, lots of concrete, there's no question about it and yet there's a tremendous amount of green space in a lot of the city. I'm very impressed by how green spaces are being developed in communities that really need more green spaces. They've not had the opportunity to have some of these spaces in the past and now those are being developed. Bayou Greenways was one of the initiatives that helped make that happen and prior to this it would have been very difficult to get to the bayou, but it's now been made very walkable.
The trail by my house is not a destination. It's my home, it's an extension of where I live. I go there every day and I'm very familiar with the wildlife and the community members walking there, which is nice. I really have a thing for the little places that nobody notices, and it has become one of my favorite places.
What interests you about the Children in Nature Movement
For me, the intersection between nature and health is the most exciting part of my work right now and that is because within both of those components we have young people, and we have an impact on young people and the engagement of young people. The work that's going on in that intersection is some of the best work in advancing opportunities for young people to become connected to nature and all the benefits that come along with that. All the health benefits of both physical and mental health and emotional well-being. I'm very excited about bringing in public health people into the movement. I saw this starting to happen in Houston and that's one of the things I found exciting about the children in nature movement. The intersection of art, culture and nature is also a very interesting aspect of the movement. Any way you can work with youth is important to be able to expose them to conservation initiatives and access to nature.
Why do you feel strongly about Texas Children in Nature Network?
Texas Children in Nature Network uplifts this generation. It is so encouraging and refreshing when an organization takes up the baton for connecting children and nature, across the state of Texas, and runs with it. It has similar goals as the Children & Nature Network, but it has its own Texas flavor that reflects the nature, youth, and community in the state. Texans can relate to an organization that aids in providing access to nature. The mission will uplift, promote, and make life better for young people and their families.
What is some of your history with the organization?
My history with the organization is that I was already part of the Houston Cities Connecting Children to Nature group that was convening and I co-chaired one of teams for about three years. Texas Children in Nature Network helped with organizing the meetings.
How has working with Texas Children in Nature Network made on your life/profession?
Texas Children in Nature Network is encouraging government agencies and non-profits to work together in intentional partnerships, and it really encourages partnerships to happen. Sometimes that's what you need, you need motivation and when you have an organization that's helping to encourage that kind of interaction and can be a catalyst for it, I think it's very valuable and that's what I have experienced with this organization.
Why did you want to join the board?
I wouldn't join a board if I didn't think the work they were doing was meaningful and by being a network partner it was an easy decision to make. I hope to add value through my contribution as a board member.
Where would you like to see Texas Children in Nature Network in five years?
I would like to see a network of partners better connected with each other. For me it's not something new, but more of something that is already happening, but better, with better connections, and more people. I don't think we need a brand-new idea. I think we've got some good engagement going on among partners and we just need more of it. It needs to be intentional; it needs to be strategic, and it needs to come from the heart, and I think that it does. It's just that sometimes you need encouragement and a little more strategy, and an organization like ours can be a catalyst and help make that happen.
Thank you, Marsha, for your time today.