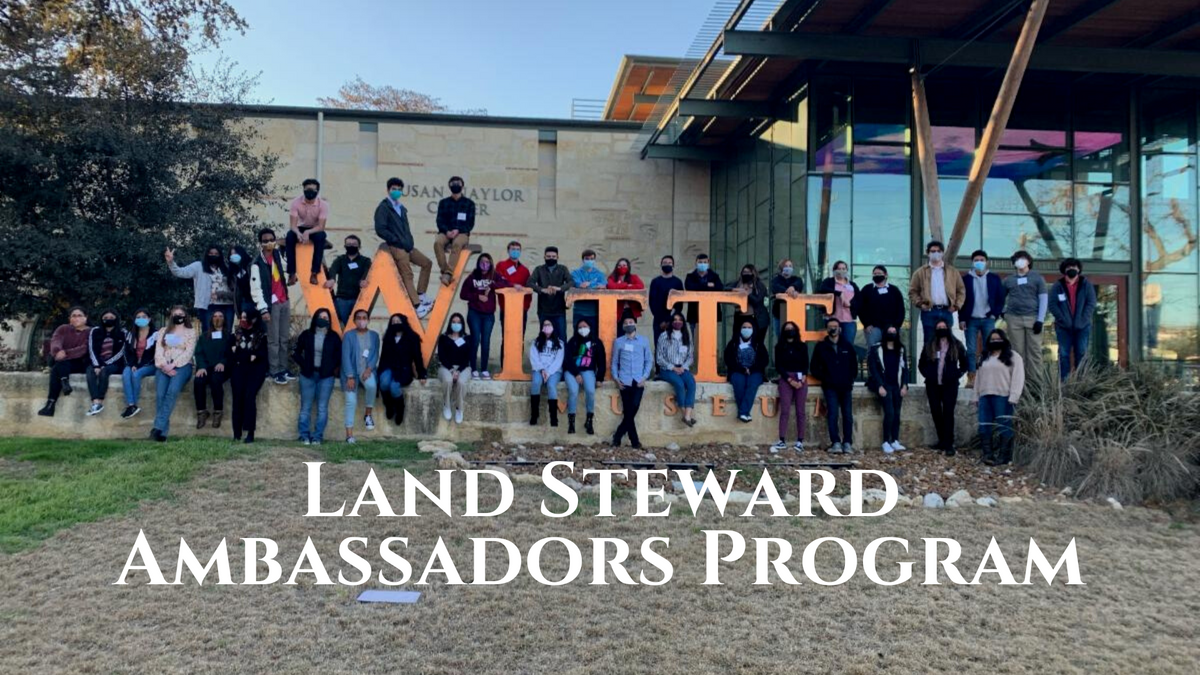 Land Stewards Ambassador Program
On March 30th Helen Holdsworth and Masi Mejia sat down with Sarah Coles, Texas Children in Nature Network Executive Director, to talk about their program and how they are engaging with youth in three communities in Texas.
Introduce yourselves and tell us about what you do:
My name is Helen Holdsworth and I am the Chief of Engagement at the Witte Museum. I am involved of anything where we engage students, visitors or special audiences, any education programs, and help with our pollinator garden. A couple of years ago I also helped with the Texas Wild Galleries and still do some work in those spaces.
My name is Masi Mejia, I am the Educator for the East Foundation. Our mission is to promote the advancement land stewardship in South Texas, we are based out of South Texas. I normally do programs in the classroom, but have been doing lots of virtual programs this past year with the Texas Wildlife Association. The Land Stewardship Ambassador program is a big part of my job.
Tell us a bit about the Land Stewardship Ambassadors program.
Our Land Stewardship Ambassadors program started in 2019. It is a ten-week program for high school students to create ambassadors and leaders for land stewardship.
What is the goal of the project?
To have students be land steward ambassadors regardless of their ultimate profession.
How does this program work in the nature and equity space in Texas?
Each week we have a dedicated topic. One of those weeks is discussing diversity in conservation. We highlight various leaders in conservation from lots of different backgrounds share their experiences and how equity has a role in conservation.
Also, for students the application is open to anyone in the three areas we serve: Brownsville, Laredo and San Antonio - we do not have a GPA requirement, but do request a couple of essays. We are looking for a diverse group of students who are active in their school and have an interest in learning about the outdoors. Serving the communities of Laredo, Brownsville and San Antonio we have a larger percentage of students of a Lantinx background.
We also have a stipend at the end of the program to compensate the students for their time, knowing that many students often have to make a choice between a program like this and an afterschool job.
How is collaboration between your organizations important for the overall success of this program?
This partnership between the Witte and The East Foundation is unique, in that most museums don't partner with NGOs in this format. It allows the Witte to go outside its walls and the East Foundation to have contact with more students. Both organizations have a mission of stewardship and that is incorporated into this program. With our collaboration we are able to take kids to places they would never otherwise visit.
The backgrounds that the different instructors bring is also an important part of the program.
How did you become involved in Texas Children in Nature Network?
Helen - I used to work with the Texas Wildlife Association and helped to develop the San Antonio Regional Collaborative. When I moved to the Witte Museum I included the Museum into the regional collaborative as well. I believe that anytime we can partner with another organization is a win-win for all of us.
What makes you passionate about helping children and families spend time in nature?
Helen - I grew up in Houston and spent a lot of time as a family in the Hill Country. I went hunting and fishing as a child, and when I had the opportunity to promote how much joy I got out of those activities I knew I had to share. Families can learn and share with each other in nature. I just want to expose as many students as we can to the outdoors.
Masi - Helen was my first boss with Texas Brigades and I would just like to echo what she said, seeing students reach their potential and take it back home. Seeing their growth - the students grow a lot - from shy to giving public presentations during the program. All things that help to further their overall education.
Is there anything more you would like us to know about the program?
Right now we are working in Brownsville, Laredo and San Antonio, but we are looking for more partners across the state. We have had students look into our program and express interest who we cannot serve because they are out of our service area. If there is an organization in Houston or somewhere else in the state that would be interested in working with High School Students to become land stewards, we would love to talk to them.
Thank you Helen and Masi for your time today.
To learn more about the Land Stewardship Ambassadors and their partner organizations check out the following links: