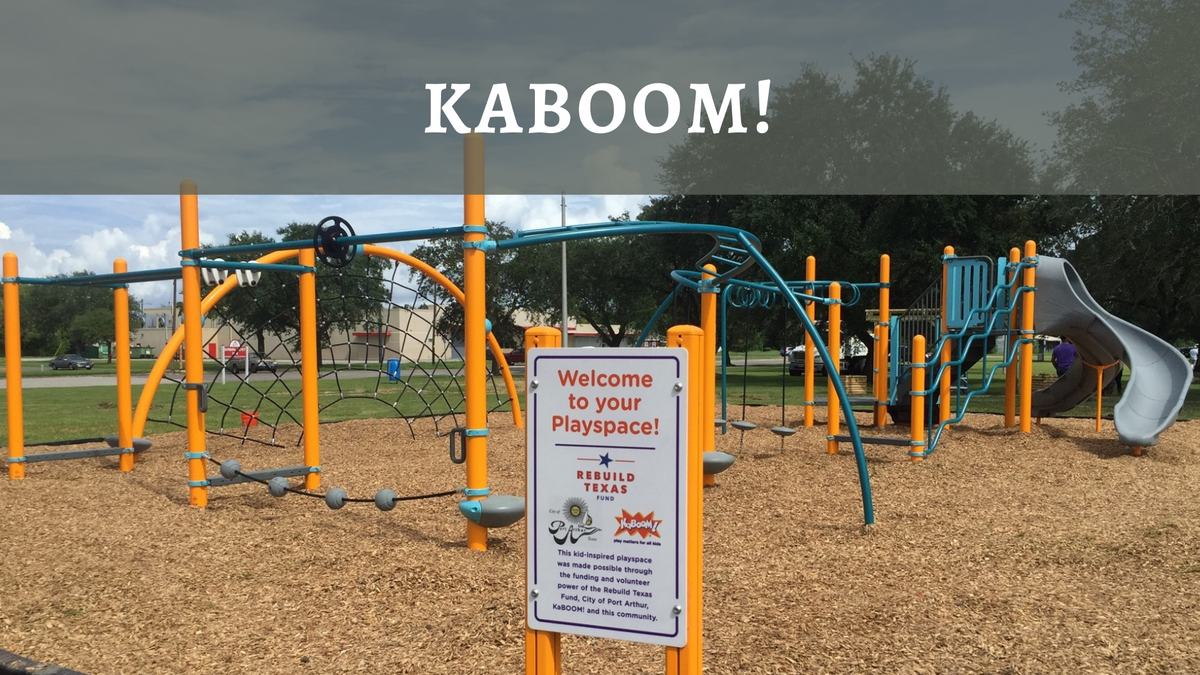 Kaboom!
On August 10th, 2021 Lysa Ratkiff, Executive Director of Kaboom!, sat down with Sarah to talk about some great initiatives they are piloting in Texas.
Lysa, why don't you introduce yourself and let us know a little about you:
My name is Lysa Ratliff and I am the CEO of a national non-profit organization called KABOOM! We have been working for the last 25 years to bring communities and kids together to end playspace inequity for children in the United States. We want all families to have equitable access to places to play where they live, at schools, in communities, around the corner, because we know an important part of childhood is the space to play in and not every kid has equitable access to those spaces.
What is really special about where we work is first, we look at where the need is the greatest - we use data to see where there have been historical, usually racial, disinvestment in communities. But more importantly, we partner with communities to recognize what they need, to understand their hopes and dreams. We then do our best to build a space that helps meet the unique needs and desires of the community we are working in.
Tell us a bit about Kaboom!
Since 1996, KABOOM! has worked with communities across the nation to transform over 17,000 playspaces and expand access to play for over 11.5 million kids. We have also engaged over 1.5 million volunteers to help build these playgrounds and bring to life the designs of the community.
We have a long history in Texas, where we have built 378 playspaces with 290 community partners, serving about 650,000 kids and engaging more than 100,000 volunteers since way back in 1997. It is a really important part of the country for us because 1 in 10 kids in the U.S. live in Texas, and many of those children do not have equitable access to playspaces and the benefits they provide.
We've embarked on an ambitious statewide effort with local park systems, school districts, city and state agencies, and groups like Texas Children in Nature Network to tackle the problem of playspace inequity and lack of access to nature at a systems scale. We are prioritizing Texas as part of our commitment to go deeper into where and how we build going forward.
What are some projects you have going on in Texas and some highlights of past work in the state?
We are proud of our legacy in Texas. A couple of years ago, we partnered with Rebuild Texas Fund after Hurricane Harvey, making a deep commitment in communities after a disaster. It propelled us in an important direction. We focused not only on rebuilding after a disaster, but also on the ways we design playspaces to meet the unique climate needs that exist around the coastal areas of Texas. One of the first projects we did was in the Pasadena area, at Atkinson Elementary School. Taking an environmentally resilient approach, we looked at how we could plant more trees, address water run-off, and incorporate raised planter boxes. We looked not only at playgrounds, but how we could design playspaces with greenspace and the climate in mind.
This is what our future work is grounded in: environmental resilience and more greenspaces integrated with playspaces. Additionally, last year, at the onset of the COVID-19 pandemic, we realized we needed to adapt significantly and it has become clear the work we are doing is more important than ever. We want to look at how we can still create spaces with community input, but do it virtually.
We put this into practice with A. M. Pate Elementary in Fort Worth ISD - we did a virtual design day - and we learned how necessary it is to get our playground in the ground and it can be done virtually! We were able to engage with the community while on the other side of the country, and we created a community and kid informed design. There were no barriers to getting it done this new way, able to focus first on getting kids outdoors first and then working virtually to get the work done.
Some of our current work is in six priority regions across Texas. We recognized several years ago our work needed to shift in terms of partnerships with communities and building coalitions and what needed to be done. We had a big question to answer: How do we assess what is accessible, particularly in communities that were traditionally disinvested in? We are using this to create a roadmap for a multi-year commitment in seven communities in Texas. We are making a long term commitment to these communities: Fort Worth ISD, Pasadena ISD, El Paso County Parks, San Antonio Parks and Recreation, Brownsville Housing Authority, Walker County, and Port Arthur Parks and Recreation.
We want to mobilize community leaders to commit to achieving playspace equity because we know kids learn and grow and foster a relationship with our planet through a place to play. The surroundings of a playground is something that is equally important to the slides and swings. Kids are learning about life around us. So, infusing natural elements into these spaces is so important to the future of KABOOM! and the work we are doing across Texas.
How do you work in the nature and equity space?
We see a huge opportunity to connect the need for playspace equity with environmental sustainability and access to nature, in large part because the kids who don't have a great playground nearby are often the same ones who face health disparities and a lack of green space.
We know that one-in-five children in Texas live in poverty, 33% are obese, and many suffer from preventable, chronic illnesses due to social determinants of health like access to recreation, fresh healthy food, etc. And as we see in communities everywhere we work, racial and economic inequities compound these challenges.
Creating spaces where kids can be active and connect with nature has to be part of the solution. Our experience shows that when kids have access to playspaces, it transforms their health, development, and achievement prospects. And decades of research show that access to parks and nature can foster increased physical activity, reduced risk of obesity, and better social-emotional wellbeing.
How is collaboration important for the overall success of this program?
It's everything! I talk a lot about how we are better together, we can do more with others than we can do alone. It is time to wake up to the need to collaborate so we can have an accelerator on our impact andimprove the way we meet the needs of the community with each other. One of the most special things that comes from collaboration is you get a 360 view of what is going on, we get more perspectives and a better and more complete picture of what the gaps and needs are. You have a level of collaboration that invites everyone in and allows us to do better work. With collaboration we can show up in authentic ways that serve the needs of communities and kids.
What makes you passionate about helping children and families spend time outdoors?
I love our planet, I like to grow my own food, I believe the planet is our most valuable resource. Helping reconnect kids and communities with the natural world is such an important and special thing. I grew up in a community that was chronically disinvested in and I knew how important it was to have people pouring love and resources into the community. Our work for me is all about the connection between our kids and our future. The success of KABOOM! and our success as a nation is wrapped up in the success of our kids and the communities we work in. Nothing is more important than supporting kids and protecting our earth.
What are some ways Texas Children in Nature Network can support your work?
You are already through your partnership with KABOOM! Our strength is in unifying with each other. We are incorporating more natural and sustainable elements into our designs and it is pushing us to give kids better places to explore and learn. We are making sure our kids are learning in environments that are best for them, both through natural play and risk-taking. We invite partners to reach out and join us in the work of creating incredible places for kids to play outdoors in Texas.
Do you have anything you would like to add?
We have a lot of work to do and have big plans ahead of us. We are looking to assess access to playspaces and make commitments to many communities in the coming years. We hope to inspire others to tap into additional resources and leverage and replicate our work and collaborate across the state.
Thank you Lysa for your time today.
Learn more about Kaboom!