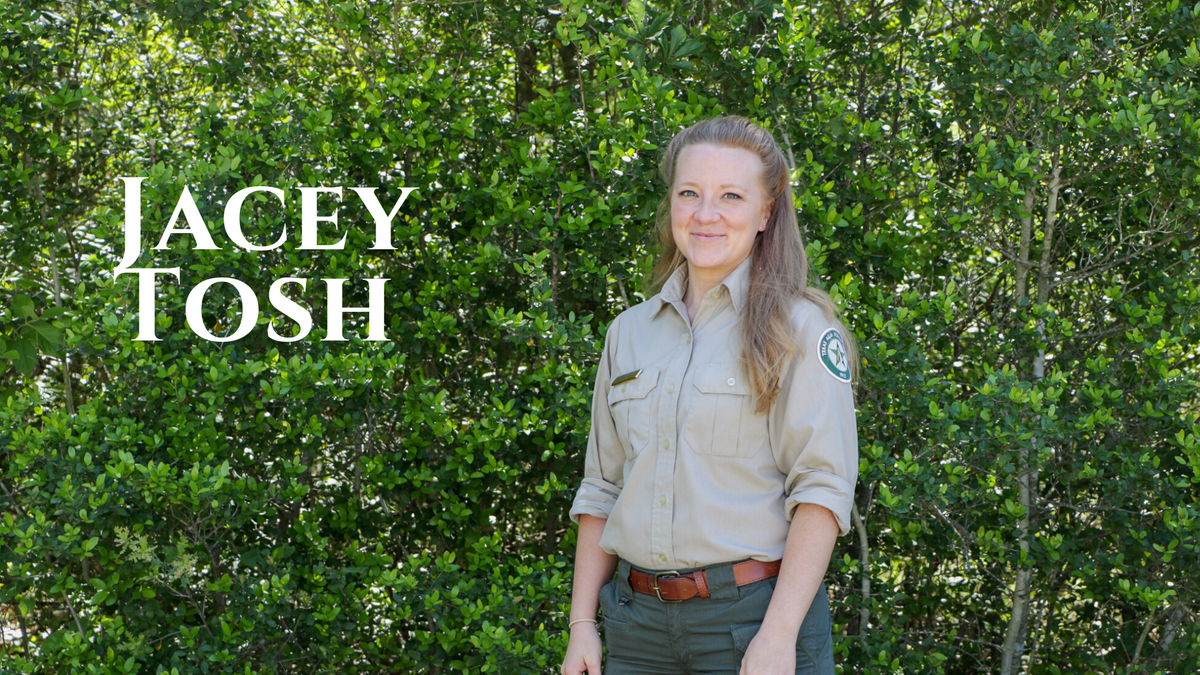 Jacey Tosh
On April 30th Jacey Tosh from Texas A&M Forest Service sat down with Sarah to talk about their program and how they are engaging children and families in nature in Texas.
Introduce yourselves and tell us about what you do:
My name is Jacey Tosh, and I am the Conservation Educator for the Texas A&M Forest Service. Texas A&M Forest Service is the state agency responsible for the conservation and protection of forest lands, and we are tasked by the Texas Legislature to ensure the state's trees, forests and related natural resources are protected and sustained for the benefit of all.
A big part of the leadership we provide is through our education programs which set the standard for forest and wildfire learning throughout the entire state, both in formal K-12 learning institutions and in informal settings, like environmental education centers. It's our goal to ensure that all Texans have access to resources that help them become forest literate, meaning they have a working understanding of the following questions: What is a forest? Why are forests important? How do people sustain forests? What's my responsibility as a citizen toward keeping forests sustainable?
As the state conservation education coordinator, I help maintain the education networks and resources that the state relies on for forest learning. I connect citizens and educators to the forest learning resources they need, and I also help design and develop new tools, curriculum, and resources to keep up with the changing needs of the public. I am also the state co-coordinator for Project Learning Tree, the award winning environmental education curriculum for K-12. A large part of PLT involves working with school districts, education service centers, and private organizations to train educators and pre-service teachers on how to teach about the environment and how to safely and effectively take those lessons outdoors. Outdoor instruction is so important for enriching student learning and fostering a more concrete understanding of complex environmental principles— While also allowing students to enjoy the physical and mental health benefits of being outside.
What are some ways you connect children to nature?
We offer a variety of in-person and virtual programs to a wide range of audiences and ages. Our education programs cover many different environmental topics, and teachers and families can find a variety of free, downloadable activities on our website. Other programs, like Project Learning Tree, train teachers to use outdoors spaces as educational opportunities and encourage outdoor exploration. Texas A&M Forest Service also manages several state forests that are open to the public.
We also host the Nature Challenge, a program offered in partnership with Texas Children in Nature Network and Texan By Nature. The challenges are generated by a network of environmental education service providers where a variety of audiences, such as families, classes, scout groups, can visit the site to find new, exciting ways engage with nature all across the state and beyond.
What are some things that are coming up for the Forest Service?
Our agency, in partnership with the USDA Forest Service and many other state forestry agencies across the country are currently working on a nationwide Forest Literacy Framework, based on the Texas Forest Literacy Plan. This framework will serve as a guide to learning about forests and will spur the development of many new programs and virtual learning opportunities. Many of those new resources launch summer 2022.
Texas A&M Forest Service is now available to participate in in-person school programs and are currently accepting requests. (You can submit your request for an in-person school program to education@tfs.tamu.edu.)
We also have State Arbor Day on Friday, November 5th, and Teacher Conservation Institute: Urban Connections, a multi-day training camp for teachers, happening this spring in Austin.
What makes you passionate about helping children and families spend time in nature?
I know firsthand how important and restorative spending time in nature can be. It really is the first step to becoming a good steward, because in the end, we only protect what we love. I see every day how our society takes our natural resources for granted, simply because most people don't have that personal connection, that deep, intrinsic understanding that nature is part of us, not just the green stuff outside our homes. It gets me out of bed in the morning knowing I get to help others create those relationships and protect an ecosystem that otherwise doesn't have a voice. Saving the world starts with simply playing outside, for adults and children alike.
How can Texas Children in Nature Network partners be part of your work?
They can help us get all our messaging out to a broader audience. We are a state with 29 million people, and we want to each all of them. We are also always looking for new ideas, resources, and volunteers. I'm not sure who coined it, but one of my favorite quotes is, "Forests are the answer … Now what's your question?" It's the truth, and more people need to know it.
Thank you Jacey for your time today.
To learn more about Texas A&M Forest Service check out the following link: