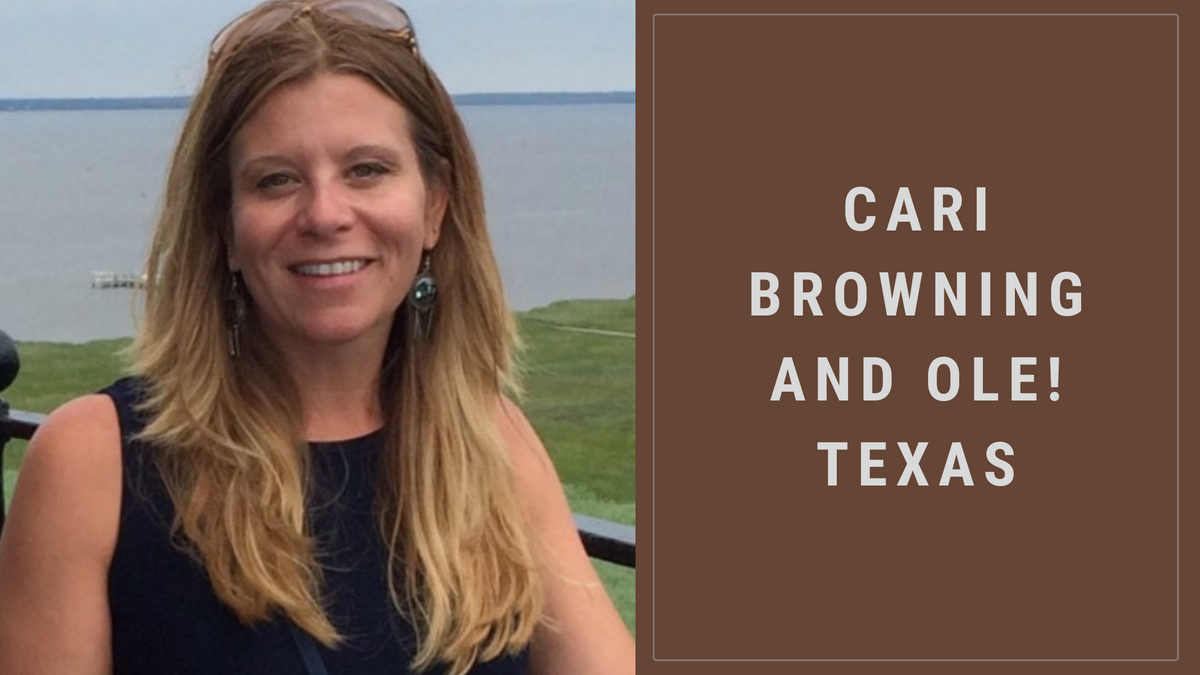 Cari Browning and OLE! Texas
On April 6th Cari Browning sat down with Sarah Coles, Texas Children in Nature Network Executive Director, to talk about the OLE! Texas initiative and how it is creating nature rich outdoor spaces for Early Childhood Centers across the state.
Introduce yourself and tell us about what you do:
My name is Cari Browning, I am a Recreation Therapist with a master's degree in International Health Promotion. I work as the Physical Activity Coordinator for the Department of State Health Services, Obesity Prevention Program in the Health Promotion and Chronic Disease Section. Our mission is to serve all Texans by improving and supporting systems, policies and environments that promote health and improve quality of life.
My experience practicing as a Recreation Therapist provided me with the opportunity to work with people of all abilities; this experience illuminated how physical environments (policies and practices within) can either include or exclude people. I learned that our environment (albeit chosen or not) is the antecedent to consider.
My personal interest in nature is rooted in my work with municipal parks & recreation programs. Connecting with natural environments is what I aspire personally & professionally for (thank you childhood Dogwood tree and world travel). My passions are to connect and inspire people & stimulate human connections with nature and the world. These passions carry into my professional work to create environments that support movability.
Tell us a bit about OLE! Texas.
Outdoor Learning Environments (OLE!) Texas is a statewide initiative that promotes healthful, nature-based outdoor spaces at early childcare and education (ECE) programs. A healthful outdoor environment helps preschool children be more physically active while they play, discover, and connect with nature. It supports the Children in Nature movement and is a collective impact initiative for early childhood education programs.
OLE! Texas is a statewide initiative; in which DSHS coordinates statewide organizations, communities and stakeholders in efforts to encourage and support Texas ECE facilities to create and sustain quality outdoor learning environments. It is based on Preventing Obesity by Design (POD) model. Higher physical activity levels and a 22% reduction in sedentary behavior among preschoolers is associated with the POD model.
We know through research, implementation & observation that outdoor spaces influence child behavior & health; interest in food, critters & nature. There are so many benefits! The most amazing part of OLE Texas is that while the work is aimed to improve environments for our youngest Texans, it also is influences adults (parents & teachers) as well as community understanding of the importance of creating & connecting natural environments.
OLE! Texas is based on Preventing Obesity by Design (POD) model. Higher physical activity levels and a 22% reduction in sedentary behavior among preschoolers is associated with the POD model. We know through observation that these designs not only influence the kids, but also parents, teachers, and the community at large. There are so many benefits to have a space that is welcoming.
How did OLE! come about?
It started with hard work, connections and interested people connecting to make it happen.
In 2012 DSHS was awarded funding by the Centers for Disease Control to support work to address the rising statistics of Texas children 0-5 being overweight or obese. This funding provided the first opportunity for the Obesity Prevention Program at DSHS to focus attention on improving policies, systems, and environments related to nutrition and physical activities for children in ECE's. Promoting physical activity in ECEs is a critical step in reducing obesity. It also encourages healthy behaviors that support children during early development and later in life.
With more than 1.1 million little Texans spending most of their time at the state's nearly 17,000 ECEs and having over 30% of Texas children between the ages of 2 and 4 already overweight or obese, directing obesity prevention efforts to improve nutrition and physical activity environments for our youngest Texans became a health promotion priority.
OLE! Texas kicked off when DSHS convened state agencies and landscape design education institutions at the 2015 National Children in Nature Summit in Bastrop, Texas. The purpose of this meeting was to realize how Texas state agencies and statewide organizations could support ECEs to improve how their outdoor learning environments in accordance with the Natural Learning Initiative's Preventing Obesity by Design best practice design indicators and practices. The catalyst being Texas Workforce Commission adopting new quality rating measures in support of naturalizing outdoor learning environments according to best practice. All agencies that attended this call to action meeting agreed to work together to improve the internal systems and resources for Texas ECEs so they could meet quality standards.
What is the goal of this initiative?
The goal is for ALL childcare operations in Texas to have quality outdoor spaces! That is a lofty goal… So to start, we are working to identify, connect & create early education, landscape design, horticulture & health resources and systems (on both state and local levels) to support ECE programs to have quality outdoor spaces according to best practices and Texas policy.
How does this program work in the nature and equity space in Texas?
The initiative promotes the naturalization of outdoor spaces in early childcare and education facilities for all of Texas. It is inclusive of state and local departments & organizations that provide (or want to provide) service to early childcare professionals. The aim to create a better space for our youngest Texans.
OLE! Texas supports equity in that all children and communities across Texas can aspire to improve resources & access in nature opportunities for learning in Texas ECE's. We have local chapters that are working with local need and resources. By design what we are doing is inclusive of all abilities at the ECE level and encouraging local access (and expansion) to nature opportunities at local level.
How is collaboration important for the overall success of the initiative?
Collaboration is the initiative! Without collaborative efforts OLE! Texas would not exist. This effort takes coordination between early education, higher education, design and landscape professionals, influencers, and systems. This is no small feat. However, the interest and momentum for the health of our youngest Texans and communities is impressive!
How did you get involved in the Texas Children in Nature Network?
I became involved when I was working with the City of Austin Parks and Recreation Department. I wanted to be involved because I believe that our environments are interconnected with human health.
What makes you passionate about helping children and families spend time in nature?
It feels like it is part of my being!
When I would teach leisure education and help people find interests; most of what I would see is that people tend to enjoy being outdoors and learning something about themselves in that space. Add that the moment you see an infant, toddler, child and/or adult in nature, there is something there. It is instinct; we are connected to nature. It is part of our coding. I think COVID has brought this to forefront of our minds.
I soulfully believe that humans have a right to be in nature and healthful environments. I am passionate and fortunate to facilitate an initiative that supports the early education system to make that a reality.
Where would you like to see Texas Children in Nature Network in five years?
I am glad to see it has become its own entity! I would like to see Texas Children in Nature Network able to provide funding as a foundation for this important work.
Thank you Cari for your time today.
To learn more about the OLE! Texas initiative check out these links: