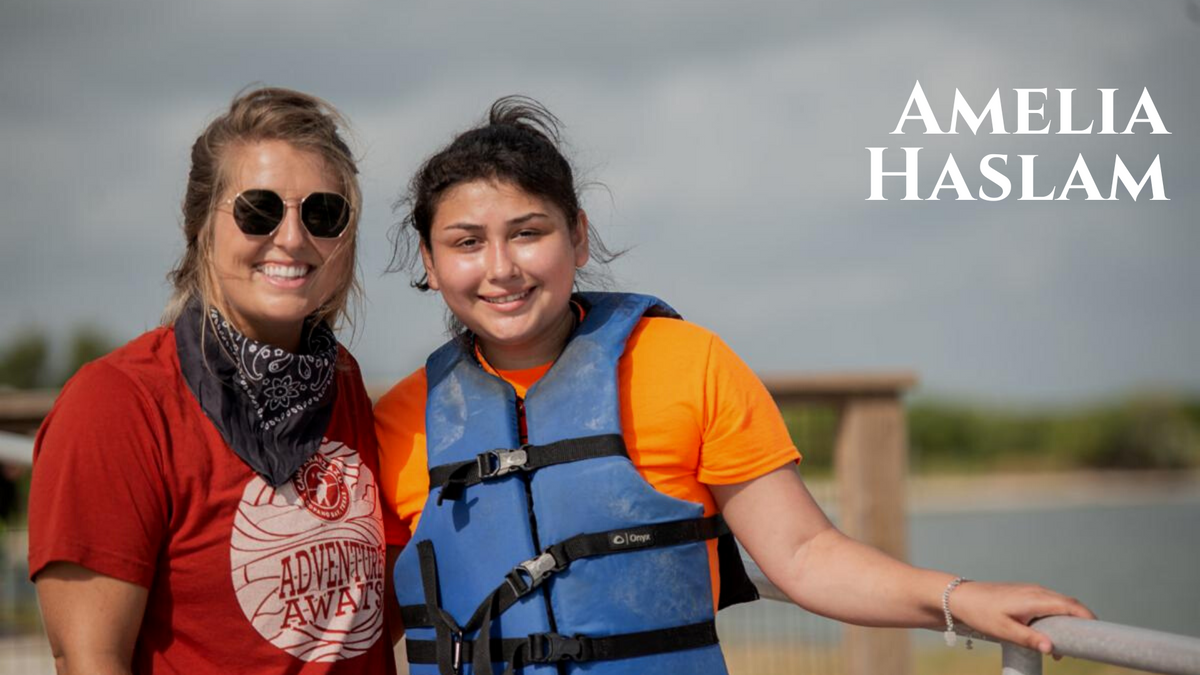 Amelia Haslam
On March 15th Amelia Haslam Smith from Camp Aranzazu sat down with Sarah Coles, Texas Children in Nature Network Executive Director, to talk about their program and how they are engaging with children and families in the Coastal Bend.
Introduce yourself and tell us about what you do:
My name is Amelia Haslam Smith and I am the Camp Director at Camp Aranzazu. I have been with the organization for eight years, I started as a seasonal counselor and am now the Camp Director. I am originally from Georgia and studied recreation with an emphasis on therapeutic recreation and natural and cultural resource management in school. I am a Certified Therapeutic Recreation Specialist. I am passionate with combining the outdoors with therapy and creating a better experience for those we are working with.
What does Camp Aranzazu do?
Camp Aranzazu provides an inclusive and adaptive camp experience for youth with special needs. Our mission is to enrich the lives of our campers through these camping experiences that is accessible to them. We are a residential camp and also offer day camp opportunities. We work off of a partner model, meaning we provide the facility, activities and program staff, and meals, while our partners serve their constituents and provide the camp counselors. Some of our community partners are: Driscoll Children's Hospital, the Epilepsy Foundation, Aspire Accessories and more. All of our partners bring lots of different campers and populations to our site. We offer intentional programming, working with our partners to create the experience that is best therapeutically for the youth who are coming to our camps. We view the camp as an chance to create positive experiences for the campers.
What makes your program unique?
Our focus on accessibility and serving special populations and providing a natural space on Copano Bay that is accessible and barrier free is what makes us truly unique. We aren't just a grouping of buildings, but are working to create self-efficacy constantly, working on setting campers up for success.
How does Camp Aranzazu work in the nature, access and equity space in the Coastal Bend?
Our bread and butter is making natural spaces as accessible as possible. We use equipment that helps get kids into natural spaces, and are always wanting to make the space more accessible. Access is inherently woven into all aspects of camp. Our goal is to inspire and spark an awe of nature in our campers and to start to make stewards of those who attend our camps, and they learn that from being out in nature.
What makes you passionate about helping children and families spend time in nature?
It is deeply rooted in my upbringing, I find peace in the outdoors. Being outdoors was truly a form of therapy for me. Using nature as an aspect of therapy for our campers felt exactly right as I came to Camp Aranzazu. I love to share the love of nature with other people. Knowing our campers have a big role in the future of the planet fuels my desire to share nature with them, often special populations are looked over in their ability to help save the planet and they shouldn't be. Being able to correct that is one of the best experiences every.
How can the Texas Children in Nature Network be part of your work?
We are a young organization and we are trying to spread our reach. Our mission groups are youth with special needs. We are always looking to partner with other types of groups, especially nature groups in the Coastal Bend and we are growing with those new partnerships. So, TCiNN can really help us further our reach to do more to help children with disabilities find a love of nature.
Thank you Amelia for your time today.
To learn more about Camp Aranzazu check out the following link: