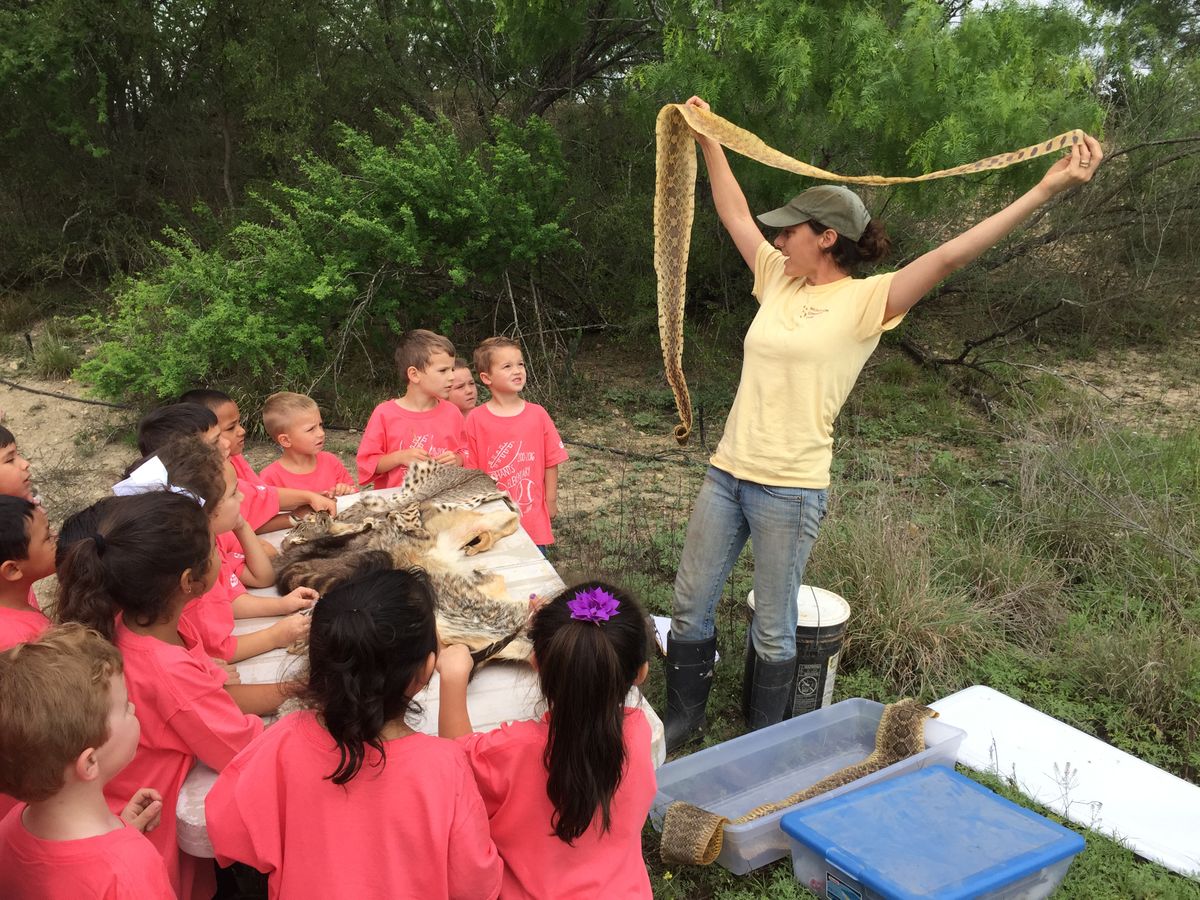 Mandy Kruase
At-Large
Mandy met with Alice on March 23rd to share why she joined the Texas Children in Nature Network Board.
Mandy, please introduce yourself and let us know a little about you:
My name is Mandy Krause, and I am an outdoor enthusiast, nature lover, rancher, educator, and mom to three young boys. My love for the outdoors and wildlife began while growing up on my family's farm in McAllen, Texas. I always knew I wanted to spend my life working with animals in the great outdoors. I met my husband, Travis, at Texas A&M University where we both majored in Wildlife and Fisheries Sciences. I enjoyed working on several exciting research projects including documenting bat emergence in the Lesser Antilles, endangered songbird research in the Texas Hill Country, and monitoring wolf trophic cascades in Glacier National Park. I was focused on pursuing a career as a wildlife biologist, but my vision shifted course when I accepted a position as the Education and Volunteer Coordinator at the Welder Wildlife Foundation in Sinton, Texas in 2010. This is where my journey in conservation education began. I never thought I would teach and was very intimidated by my first experience with a group of 4th graders! However, they were not so scary after all, and I soon realized that this new course suited me well.
Over the past 13 years I have also worked as an educator for the Mitchell Lake Audubon Center and the Nueces River Authority. I consulted for Texas A&M AgriLife and assisted with creating their Generation Next: Our Turn to Ranch training program. I continued contracting for the Welder Wildlife Foundation and led teacher workshops across the state delivering their K-5th grade Rangelands curriculum. Most recently I served as the Executive Director for the Devils River Conservancy, a small non-profit dedicated entirely to protecting the Devils River. Currently, I am focused on raising our three young children and our ranching business while enjoying consulting for conservation organizations on the side.
My ranching hat goes hand in hand with my work as a conservation educator. We live near D'Hanis and the land we are blessed to call home has been in Travis' family since 1846. While working for the Welder Wildlife Foundation in 2010, we started leasing this land from family and began our own regenerative agriculture business. Coming from an ecological background and seeing the rapid loss of working lands, we were driven to figure out realistic solutions to make this land more productive, profitable, and sustainable. The ranch operated as a traditional cow calf operation for generations, and we needed to diversify. The word regenerative really wasn't used when we started. The buzzword at the time was "sustainable" and we have had quite a journey! The direct connection and positive impact that regenerative agriculture has on the environment keeps us motivated to push through the challenges. We have researched, experimented, learned from mistakes, shared our experiences with others, and continue working towards our goals daily. For over a decade we have pastured poultry for eggs and meat. We built our own state exempt processing facility where we processed up to 10,000 broiler chickens annually in addition to other poultry including turkeys for Thanksgiving and Christmas. Our pasture-based model required frequent rotations and adequate rest in effort to improve the soil and plant communities. Livestock guardian dogs were used to protect the livestock. We also transformed the ranch's traditional cattle production to a rotational grazing system. We direct marketed our product across San Antonio at farmers markets, restaurants, ran a community supported agriculture, and home delivery business that boomed during COVID. What an awesome experience it has been! Once our third child was born, we scaled back production substantially to focus on cattle production, permaculture, and land restoration. The most fulfilling part of this work has been connecting others to the land through their food. We host a variety of programs including farm tours, landowner field days, on-farm research, and youth group programs. We are blessed!
What are some of your favorite activities in nature?
Hiking, yoga, birding, swimming in rivers, hunting, laying in a hammock, getting my hands in the soil, playing with my kids, daydreaming with my husband, sitting around a fire enjoying friends and cooking good food to name a few. I love ranching and all the physical labor that comes along with it like working cattle, swinging a pick, building fences, installing water lines, experimenting with permaculture and regenerative agriculture techniques, and gardening. I like the challenge of learning new skills and seeing results that make a positive impact. Land restoration, creating resilient landscapes, and designing beautiful spaces where people enjoy being in nature ignites my creativity and gets me fired up.
What is your favorite nature spot in Texas?
Top of the list is my home. Ranching in this brittle environment is extremely challenging, but I really love it here! We have three little boys and getting to raise them out here is a dream come true. They love to garden, explore the woods, build fires, get in trouble, learn from their mistakes, and soak in some awesome moments.
What interests you about the Children in Nature Movement
First, the direct connection it has to our health and wellness. And second, knowing that if people feel connected to nature, they will have a conviction to care for it and teach those around them to do the same.
Simple solutions with a large impact!
Why do you feel strongly about Texas Children in Nature Network?
A quote I love is: "When we see land as a community to which we belong, we may begin to use it with love and respect," by Aldo Leopold.
Another is: "One final paragraph of advice: do not burn yourselves out. Be as I am - a reluctant enthusiast, a part-time crusader, a half-hearted fanatic. Save the other half of yourselves and your lives for pleasure and adventure. It is not enough to fight for the land; it is even more important to enjoy it. While you can. While it's still here. So get out there and hunt and fish and mess around with your friends, ramble out yonder and explore the forests, climb the mountains, bag the peaks, run the rivers, breathe deep of that yet sweet and lucid air, sit quietly for a while and contemplate the precious stillness, the lovely, mysterious, and awesome space. Enjoy yourselves, keep your brain in your head and your head firmly attached to the body, the body active and alive, and I promise you this much; I promise you this one sweet victory over our enemies, over those desk-bound men and women with their hearts in a safe deposit box, and their eyes hypnotized by desk calculators. I promise you this; You will outlive the bastards," by Edward Abbey.
These are two of my favorite quotes and I feel Texas Children in Nature Network embodies them well! During my lifetime, I want to contribute to protecting our wild places and creatures, but I also want to enjoy them and help others do the same.
What is some of your history with the organization?
I joined the Coastal Bend Collaborative when I worked for the Welder Wildlife Foundation in 2010 where I was first introduced to this wonderful world of partners. I later joined the San Antonio Regional Collaborative when I worked for Mitchell Lake Audubon Center in 2012. I attended my first leadership Summit when I began leading teacher trainings for the Welder Wildlife Foundation's Rangelands K-5 curriculum. Texas Children in Nature Network has provided so much support through the years. They advertised our workshops, shared our opportunities and resources, and hosted our virtual teacher trainings. I have led teacher workshops for close to 2,000 teachers and at every single workshop I addressed Texas Children in Nature Network's mission and what is known about children who learn in nature. This information captivated 99.9% of the participants and sure kept me excited! Check out Mandy's Home on the Range Teacher Workshop on YouTube.
How has working with Texas Children in Nature Network made on your life/profession?
Engagement, support, and professional development. The community, partnerships, and opportunities that Texas Children in Nature Network provides are such a gift. The slogan sums it up well – Happier, Healthier, Smarter.
Why did you want to join the board?
I believe in Texas Children in Nature Network's mission and respect their work and professionalism. Texas Children in Nature Network has made a huge impact throughout Texas, and I feel excited and honored to contribute to the effort.
Where would you like to see Texas Children in Nature Network in five years?
I would love to see Texas Children in Nature Network build capacity to drive its mission forward. I am very passionate about the private lands/public needs interface in Texas and understand both sides. I am grateful for the private landowners who work hard to protect their land that supports our ecosystem services. However, all Texans need access to the beautiful places around us in order to understand it, connect to it, and feel a desire to protect it. There is just not much available in a state where over 95% of the land is privately owned, thus we must get creative. This interface is where I believe Texas Children in Nature Network can have the greatest impact.
Thank you, Mandy, for your time today.