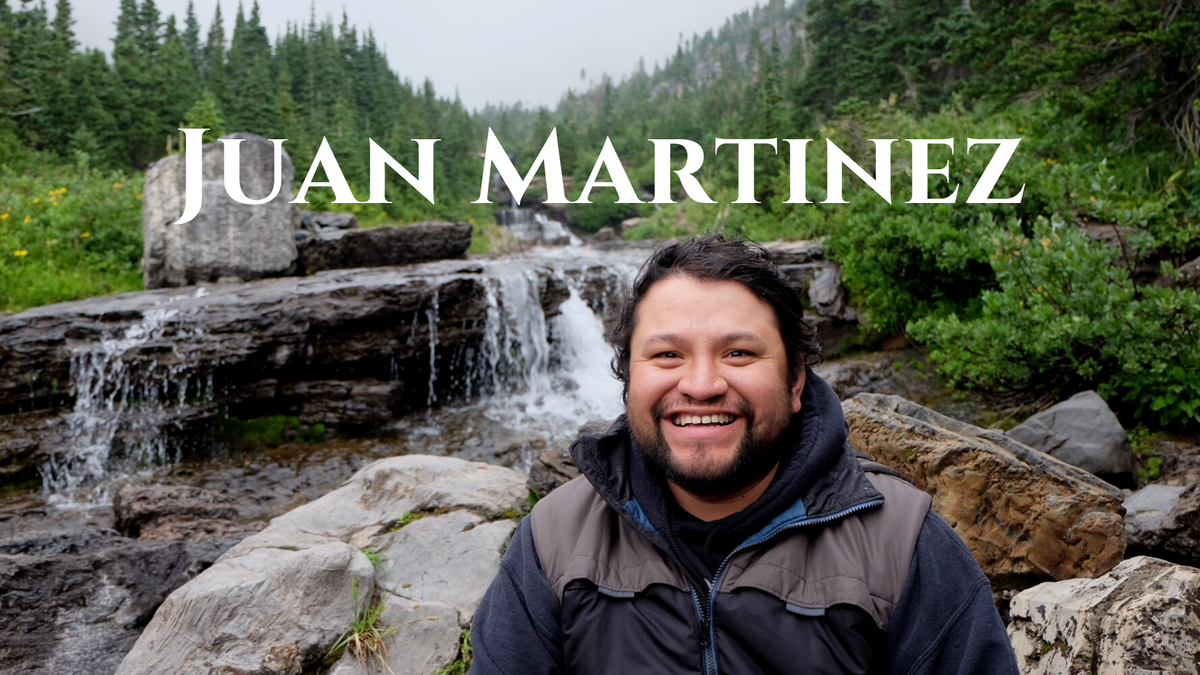 Juan Martinez
At-Large
On August 24th Juan Martinez discussed why he joined the Texas Children in Nature Network Board.
Juan, please introduce yourself and let us know a little about you:
My name is Juan Daniel Martinez Pineda, I was born in Mexico City, MX, raised in Los Angeles, California the Land of the Chumash and the Tongva People. I am a descendant of the Zapotec people of Oaxaca, MX, specifically the region of Isthmus of Tehuantepec, Comitancillo. There are no modern date links I can share. Unfortunately, most of the information currently out there presents my community in erasure, as historic and not present day community and thriving. However, To learn more about my culture I encourage you to visit and learn about here are some of the organizations that are doing great work to support and preserve the traditions.
https://www.facebook.com/guelaguetzaoficial/
https://www.gob.mx/inpi/articulos/etnografia-del-pueblo-zapoteco-del-istmo-de-tehuantepec-binniza
I work at The Aspen Institute, Forum for Community Solutions as a Senior Program Officer, and am married to my wonderful wife Vanessa who is from Texas and we live in Blanco, Texas.
What interests you about the Children in Nature movement?
The Children in Nature movement is core to what I believe is the healing power of the outdoors, nature and culture. This next generation of children and their bond with nature, has the potential to create a more sustainable and beautiful future and that is why I am dedicated to this movement.
Why do you feel strongly about the Texas Children in Nature Network?
Its about family. I married a proud Tejana, this state has some of the most beautiful open spaces in the country and a strong connection to the land. Our lone star state has a strong opportunity to decide what that open space looks like for the future generations of the state. I am excited to listen, learn, and connect with that legacy that is so vividly ingrained into what it means to live in this great state
What is some of your history with Texas Children in Nature Network?
I've worked with Texas Children in Nature Network partners since the creation of the organization at my previous position as the Vice President of Partnership Development for the Children and Nature Network. The Texas leadership has always been strong champions in the community. This network really stands as a model for other national partners. I was inspired from that perspective as I was working at the national network. Working with leaders like Molly Stevens, Nancy Herron, Ryan Spencer, Ky Harkey, Monica Lopez Magee, Margaret Lamar, Heather Kuhlken and many more represented an entire community of amazing leadership in the state. I was always inspired and connected to this Texas group. When we moved to Texas, TCiNN partners were some of the first people I reached out to when we moved. There are many great organizations doing amazing work, TCiNN felt like home!
How has working with the Texas Children in Nature Network made an impact in your life or profession?
One of our first regional Natural Leaders Legacy Camps was with Ryan Spencer and Westcave years ago. Being able to explore Austin has really inspired me in my development as a leader. Over all Texas stands as a model of how we address equitable access to nature especially when we don't have a lot of public land. This makes Texas unique at how we approach equitable access to nature, private landowners, and community partners. I am excited to dive into what that looks like in the future.
Why did you want to join the Texas Children in Nature Network board?
I wanted to join the board because: 1) I wanted to know my community and offer my skills to the growth of this organization. I think state collaboratives are key to building the grassroots of children in nature movement. And 2) I am reminded that when I was a young Latino leader out in the field other leaders were opening doors for me, and I hope to do that for the next generation of leadership by creating more opportunities for growth and leadership that represents all of us.
Where would you like to see Texas Children in Nature Network in five years?
The Texas Children in Nature Network movement is growing just like the state. As our membership grows I strive for a healthy financial standing. I have a vision that we can do a lot together by diversifying and being representative of the great state of Texas in every way we can. Connecting to the land is so much a part of Texas' identity and who we are as a people in general, connecting with the outdoors is part of who we are. Creating pathways for young people to connect to nature is one of the ways we can start.
Thank you Juan for your time today.